Event Catering: The gift of food is always appreciated - and can be customized

(ARA) Unique. Personal. Indulgent. Convenient.
Fun. Scrumptious. Whether you're the giver or the lucky recipient, food gifts are a safe bet - and always appreciated.
In fact, giving food for the holidays is on the rise. Sales of food gifts have grown $2 billion in the past two years, up to $18 billion - and are expected to reach $21 billion by 2014, according to CPG research.
And what do Americans love to eat? Beef is king, according to the U.S. Census Bureau. From 1980 to 2007, consumers enjoyed 62.2 pounds of beef per year. Chicken was second most consumed, coming in at 59.9 pounds per person. Other red meats, poultry and seafood selections are way down the list.
"Let's face it, Americans love beef," says Ed Scavuzzo, president of Kansas City Steak Company. "Close your eyes and remember your favorite meals - chances are good there is a sizzling steak high on that list. Whether you prefer a tender filet mignon or a flavorful ribeye - or choice tenderloins - beef is still our best selling item. We've found that our customers give what they love - and this time of year, beef is definitely a favorite."
Kansas City Steak Company has delivered holiday meats since 1932. Scavuzzo offers five helpful tips when considering gifting meat this year:
* Tailor your gift to your recipient. What do they enjoy doing in their spare time? For instance, football fans might love a "Tailgate in a Box" - providing everything they need for the perfect tailgating party at home. Others might enjoy entertaining at home. Consider a gift of "The Perfect Dinner Party" - all they need to add are the guests. Be sure to include a great dessert.
* Getting creative doesn't necessarily cost more, and it certainly adds to the perceived value of the gift. When sending meat gifts, consider embellishing the gift with special barbecue sauces or seasonings. There are many online resources that provide some great options. The Steak-Enthusiast.com is a great source for selecting award-winning rubs and sauces. That extra touch tells the recipient that you've gone the extra mile - and the gift's value increases exponentially.
* If you're choosing a corporate gift, be sure the gift reflects your company's brand. Approximately half of the companies that send gifts will select food gifts, according to a recent American Express corporate gift-giving survey. Consider giving a gift that reflects your geographic location, featuring meats that highlight some of the seasonal and cultural nuances of the area. New Orleans? Add some Cajun or Creole spices. New England? How about sending some lobster tails and crab cakes? The Pacific Northwest? Sounds like a king salmon filet might be a good fit. The Midwest? Pick your favorite steak; it's sure to be a hit.
* Consider rounding out your meat gift with the perfect wine. According to author Clifton Fadiman, "If food is the body of good living, wine is its soul." Scavuzzo's team has put together a great food pairing guide. Imagine the joy on the recipients face when the gift arrives. You've just given a lovely memory-making experience.
* Extend the holiday magic - consider sending meat gifts for New Year's Eve, the Super Bowl or for the perfect Valentine's Day romantic dinner. Flavorful food gifts aren't just for Christmas - they can be enjoyed year-round. Sometimes giving a gift that arrives after the big holiday rush actually breaks through the clutter and gets more attention.
This year when you're thinking about selecting gifts others will love, join the millions of foodies who are rediscovering the joys of cooking and home entertaining and give them something that will put a smile on their face. It might just put a big smile on your face, too.
Submit a free request to receive more information from up to four pre-screened local
event caterers
matched to your needs at
www.respond.com
.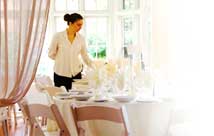 | | | |
| --- | --- | --- |
| | | Respond Events Directory lists the top Caterers in your area, organized by specialty and office location. |