Event Catering: Move over wine and cheese, a new party pairing is in town

(ARA) With football time in full swing, and family and friends gathering to celebrate the season, the pressures to host this year's best game-day or celebratory party can be stressful. Avoid a staid, run-of-the-mill celebration and try the new entertaining trend that is certain to add a taste adventure to your next get-together. Move over, wine and cheese ... hello, beer and jerky.
Instead of old party pairing standbys like "chips and dip" or "crackers and cheese," a beer and jerky get-together offers your guests the palate-pleasing experience of tasting an assortment of ice-cold brews paired with a bevy of jerky.
Not your grandpa's jerky anymore, today's meat snacks are offered in an array of flavors and forms from traditional-style jerky to soft and tender nuggets in beef, turkey, chicken and pork varieties. When making your beer selections, try unique options from local and regional craft or microbreweries.
There is a certain artistry to pairing the perfect flavors, and Brian Carter, Jack Link's Beef Jerky flavor expert, has chosen his meat snack favorites to be paired with the beer selections of a certified master brewer, resulting in four quick, yet tasty beer and jerky pairings.
Let the taste adventure begin.
Barbecue bliss: Barbecue beef jerky and full-flavored, dry stout. For a big, full-bodied blast of flavor, nothing beats the combination of beer and barbecue. But forget the grill; just tear open a few bags of ready-to-eat, tender jerky. Strongly flavored jerky, like barbecue, hickory-smoked or steakhouse-style, has multiple dimensions and is recommended for pairing with a fairly complex, rich beer with some of the same characteristics. A full-flavored dry stout with a good body works best. The burnt, roasted notes of the stout provide the flavor to accompany the barbecue, grilled or smoky jerky taste.
East meets west: Teriyaki jerky and German kolsch or U.S. golden ale. If the tempting taste of teriyaki beckons you to the table, enhance the experience with a traditional German kolsch-style beer or American golden ale. The low hopping of this style of beer allows the aroma and umami of the teriyaki to remain present, while the fuller body complements the flavor of the beer. Avoid overly hoppy or malty beers with this flavor of jerky.
Taste of home: Ham or turkey jerky and doppelbock or medium-bodied lager. Who can resist the down-home flavor of tender, oven-roasted turkey or perhaps maple-glazed, baked ham? The honeyed and savory tastes of turkey or ham jerky pair wonderfully with the rich, full-bodied traits of a doppelbock. The slight caramel notes of the bock couple well with the sweetness of the jerky, while the maltier, sweeter notes of the beer contrast with the savory nature of the meats. A medium-bodied lager such as an Oktoberfest or marzen-style beer is recommended. These beers are brewed with spicier German hops and work well with poultry or pork dishes.
Spice it up: Peppered or spicy jerky and English ale or English India pale ale. Pick up a package of buffalo-style chicken or peppered beef jerky to spice up the party. The robust seasonings of hot- and spicy-style jerky pair well with English-style ale or English India pale ale. The assertive presence of the hops helps balance the spiciness of the peppery notes, especially at the finish. English Ale or India pale ale are both full-bodied beers that hold up well to the flavor of the peppery beef or spicy chicken, while the fruity, spicy hops complement the peppery, spicy overtones.
Whether your party includes just one of these flavor pairings or all four, a "beer and jerky tasting" gathering is certainly a twist on the ordinary entertaining fare. For more tips on how to host a beer and jerky tasting adventure, visit www.jacklinks.com/beerandjerky..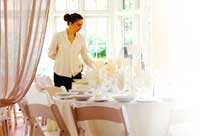 | | | |
| --- | --- | --- |
| | | Respond Events Directory lists the top Caterers in your area, organized by specialty and office location. |